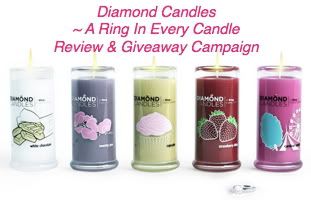 Check it Out! I love candles, love them and I love trying new brands as I am always seeking that perfect aroma for me! So I was super excited to find out about an opportunity to review Diamond Candles! What are Diamond Candles, well they are super unique in that each soy candle harbors a ring valued anywhere from $10-$100-$500-$5000 each. Yep, I said a ring! How exciting! And what a fab gift!
Well, I sure hope that I get to review these super cool candles and possible host a giveaway and if your a blogger too, then head over
HERE
and get some more info to see if you would like to do a review of your own!