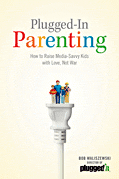 Plugged-In Parenting:
How to Raise Media-Savvy Kids with Love, Not War
by: BobWaliszewski
About the Book:
"Plugged-In Parenting comes at a time when parents find themselves between a rock and a hard place. They want to protect their children from the increasingly violent and sexualized content of movies, TV, the Internet, and music as well as cyberbullying and obsessive cell phone texting. But they fear that simply "laying down the law" will alienate their kids. Can parents stay connected to the media while staying connected to God and to each other? This book makes a powerful case for teaching kids media discernment, but doesn't stop there. It shows how to use teachable moments, evidence from research and pop culture, Scripture, questions, parental example, and a written family entertainment constitution to uphold biblical standards without damaging the parent-child relationship."
About the Author

"Bob Waliszewski is a parent and former youth pastor. He's also director of Plugged In Online, which is visited about one million times each month by people looking for detailed, trustworthy information on today's entertainment. Bob's weekly Plugged In Movie Review is heard on nearly 600 U.S. radio stations, as well as in about a dozen other countries."
My Review:
Plugged in Parenting is designed to help parents make media choices that bring your family closer together and help you teach your children what you find appropriate and why. There are scriptures, interviews and stories that can be used as starters for your own discussion with your kids. Whether you have very young children or older ones, this is a great handbook for opening your eyes as to what is out there and how to keep up with it. In this world of technology that we have today, it is very scary, kids are exposed to so much and many parents don't even realize the effect that media has on their child and ultimately their family.
My kids are in their tweens and teens now and they complain about what they are not allowed to watch and listen to, but for me it goes back to once you see it, you can not unsee it! And then you are left to deal with what you saw and sometimes that can be hard for kids and adults too. In Plugged in Parenting you will also find an awesome tool for any family who desires to implement God's Rules into their everyday lives called the Family Media Constitution. We will definitely be using our own version because as a parent who knows exactly what effects media can have on a child, I want to do everything I can to make sure my children don't "see it" to begin with.

*I received a complimentary copy of "Plugged in Parenting" via Tyndale House Publishers for purposes of this review, however all opinions are my own.