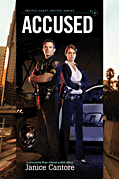 Accused
by: Janice Cantore
About the Book:
"Detective Carly Edwards hates working in juvenile—where the brass put her after an officer-involved shooting—and longs to be back on patrol. So when a troubled youth, Londy Atkins, is arrested for the murder of the mayor and Carly is summoned to the crime scene, she's eager for some action. Carly presses Londy for a confession but he swears his innocence, and despite her better judgment, Carly is inclined to believe him. Yet homicide is convinced of his guilt and is determined to convict him.
Carly's ex-husband and fellow police officer, Nick, appears to be on her side. He's determined to show Carly that he's a changed man and win her back, but she isn't convinced he won't betray her again.
As the investigation progresses, Carly suspects a cover-up and strikes out on her own, uncertain whom she can trust. But when danger mounts, she begins to wonder if she made the right choice."

About the Author:
"A former Long Beach, California, police officer of twenty-two years, Janice Cantore worked a variety of assignments, including patrol, administration, juvenile investigations, and training. She's always enjoyed writing and published two short articles on faith at work for Cop and Christ and Today's Christian Woman before tackling novels. A few years ago, she retired to a house in the mountains of Southern California, where she lives with two Labrador retrievers, Jake and Maggie.
Janice writes suspense novels designed to keep readers engrossed and leave them inspired. Accused is the first book in the Pacific Coast Justice series, featuring Carly Edwards. Janice also authored the Brinna's Heart series, which includes The Kevlar Heart and The Heart of Justice.
Visit Janice's website at www.janicecantore.com and connect with her on Facebook."


My Review:
I loved this book! It did start out a little slow for me, but by the time I hit chapter 10, I was fully immersed. This isn't just a cop story, it's an inspiring story. Carly's life is a mess and it just keeps getting worse. Her marriage is over, she's stuck in juvenile instead of being out on patrol where she longs to be and now she is caught up in mess trying to help her "bible-thumping" mom's young friend. At the same time she is thrown back together with her ex, Nick, who cheated on her and the wounds are still fresh. Nick is changed though and he sets about showing Carly just how much and ends up inspiring her. How? Ya gotta read it. I will say I had tears at the end and I am inspired myself, I will be seeking out more Janice Cantore books! 2 Thumbs Up!!!

*I received a complimentary copy of the book in this post via Tyndale House Publishers for purposes of this review, however all opinions are my own.