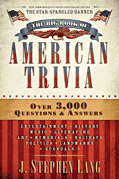 The Big Book of American Trivia
by: J. Stephen Lang
About the Book
:
Impress your friends with knowledge of all things American—geography, history, entertainment, people, culture, and quirky miscellany. More than 3,000 questions will fill countless hours of fun as you learn fascinating facts about our country. Now with facts and trivia related to the American flag and "The Star-Spangled Banner,"
The Big Book of American Trivia
has hours of fun packed within its pages. Perfect for party games, family gatherings, and vacations.

About the Author
:
"J. Stephen Lang's favorite game is Trivial Pursuit, and his favorite book is the Bible. Lang is a best-selling author whose other titles include The Ultimate Book of Bible Trivia, The Complete Book of Bible Promises, The Big Book of American Trivia, and The Complete Book of Confederate Trivia. He lives in Seminole, Florida."
My Review:
This is a great book to have as a homeschool family. It is jammed packed with facts and information that will keep you or your kids occupied for hours. With a preface to the Star Spangled this is an updated edition of the original book that was first published in 1997. It includes original facts and questions as well as new ones. Broke up into fourteen parts, you can find info on topics like Entertainment and Places, History and People. It is meant for browsing, you can just pick it up and find a cool fact or even one that you may already know. This has become a coffee table book in our house. The kids love to ask each other questions from it. We give it 2 thumbs up!