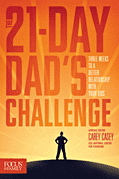 21-Day Dad's Challenge
General Editor: Carey Casey
About the Book:
"This fall, men all over the U.S. will emerge from movie theaters wanting to be better fathers—having just watched Courageous, the new film from the producers of Fireproof. This book will help them reach that goal. Using well-known names from the worlds of sports, Christianity, and parenting, The 21-Day Dad's Challenge will inspire and equip men to succeed in practicing "Championship Fatherhood." Though not an official tie-in to the movie, this joint project by Focus on the Family and the National Center for Fathering will aid dads in applying the film's message. The "challenge" format will appeal to men's competitive instincts. And the simple, straightforward approach, combined with the limited time frame required, will convince them that they really can become measurably better dads in just three weeks."
My Review:
This is a pretty cool book and one that I think many fathers would find helpful. If you know a dad that just can't seem to connect or doesn't seem to make time for their kids, this is a great book for them. In a non-pushy way each chapter has a narrative from a different writer along with a challenge and a plan and they give you space right in the book to make your plan. I absolutely love the questions and insights they give to help jumpstart those dad's into getting to know their kids or appreciating them. It's a great gift for a new dad to read and have in the mind as their child grows. I give this book 2 thumbs up!
*I received the book in this post compliments of Tyndale House Publishers for purposes of this review, however all opinions are my own.