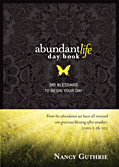 Abundant Life Day Book:
365 Blessings to Begin your Day
by: Nancy Guthrie
About the Book:
Ultimately, to be blessed is to have the full, abundant, and ongoing life that only comes from God. The Abundant Life Day Book contains a year's worth of daily reminders of what it means to live in the abundance of God's blessing through Christ. When we begin to see how much God has given to us in Christ, and how much he is worth, we realize that all the things we were hoping to get from God—good health, loving relationships, protection from harm, material provision—are only temporary, tangible reminders of and pointers to all we have in Christ. God wants you to enjoy the assurance of his intention to bless you! The Abundant Life Day Book invites you to celebrate God's blessings day after day.

About the Author:
Nancy Guthrie speaks at conferences around the country and internationally, and is currently pursuing graduate studies at Covenant Theological Seminary. She and her husband, David, are the co-hosts of the GriefShare video series used in over 8,500 churches around the world and host Respite Retreats for couples who have faced the death of a child. She is the author of numerous books including Holding on to Hope, Hearing Jesus Speak Into Your Sorrow and The One Year Book of Discovering Jesus in the Old Testament.
My Review:
This is a beautifully embossed hard cover little book that is sure to help anyone in need of a daily blessing. Each day comes with a scripture then a brief explanation brought to you as if God were speaking it and then a short prayer. Taking you through the bible with 365 days of readings, these are quick and refreshing and a great way to take a minute to get a center towards God before starting the day. It's a great size for keeping near the bed or taking with you when you travel.


*I received the book in this post compliments of Tyndale House Publishers for purposes of this review, however all opinions are my own.