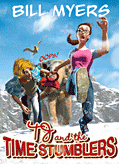 TJ and the Time Stumblers 3: Oops!
by: Bill Meyers
About the Book:
"The mishaps never end as TJ's "helpers" from the 23rd century—Tuna and Herby—continue to study TJ as she learns the valuable lessons she'll need to become a future world leader. In
Oops!,
TJ learns the importance of speaking and thinking well of people even when they are difficult, thanks to the Thought Broadcaster Pen, which exposes the thoughts of everyone it hits. As usual, Tuna and Herby's attempts to fix the pen only make things worse—now all of TJ's thoughts become reality! As she fights not to return meanness to others (and to clean up the disasters her thoughts cause, like turning whiny TV star Hesper Breakahart into a giant baby), TJ learns from her dad a little more about how her mother handled things: She kept reminding herself that each of us is God's creation. And no matter how mean people may be, we all need to be loved. The same message also unfolds through a side story of classmate Chad Steel learning to treat a mean boy better."
About the Author
:
"Bill Myers is the author of several best-selling series, including Forbidden Doors, The Incredible Worlds of Wally McDoogle, McGee and Me! He is a writer and director; his work has won over 60 national and international awards and his books and videos have sold nearly 8 million copies."
My Review
:
I love the TJ and the TimeStumblers series and more importantly, my daughter loves this series. Book 3 is just a continuation of the fun and hilarious hijinks of three crazy kids. Two of whom just happen to be Time Travelers from the 23rd -century! This time they are studying TJ for their history project! We think TJ is fab mix of funny and insane! The "sound effects" are too cool and really keep you interested in the story. There are always great morals to the stories and this one teaches you to be nice and to value honesty and patience. Great messages put into fun kid relateable humor that leave you waiting for the next adventure! We sure are!! Recommended for ages 9-12.
*I received the book in this post compliments of Tyndale House Publishers for purposes of this review, however all opinions are my own.