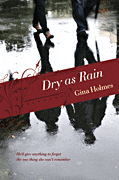 Dry as Rain
by: Gina Holmes
About the Book:
"From the bestselling author of Crossing Oceans comes a powerfully moving story that tests the limits of love's forgiveness. Like many marriages, Eric and Kyra Yoshida's has fallen apart slowly, one lost dream and misunderstanding at a time, until the ultimate betrayal finally pushes them beyond reconciliation. Just when it looks like forgive and forget is no longer an option, a car accident gives Eric the second chance of a lifetime. A concussion causes his wife to forget details of her life, including the chasm between them. No one knows when—or if—Kyra's memory will return, but Eric seizes the opportunity to win back the woman he's never stopped loving."

About the Author:
"Gina Holmes is the author of the bestselling and award-winning debut novel Crossing Oceans. In 1998, Gina began her career penning articles and short stories. In 2005 she founded the influential literary blog Novel Journey. She holds degrees in science and nursing and currently resides with her husband and children in southern Virginia. To learn more about her, visit
http://www.ginaholmes.com/
or
http://www.noveljourney.blogspot.com/
."
My Review:
I have never read any of Gina Holmes work, but I have to say that I am a new fan! Dry as Rain is a wonderful story of love and life. When a tragic accident takes his soon to be Ex wifes memory, Eric has to decide to walk away from the already crumbling marriage or take a second chance that most couples never get and stay and wait. This book is written from Eric's perspective and takes you through the roller coaster ride of life and love, betrayal and redemption. This is a thought provoking story and as a married woman of 22 years I wonder could I forgive the ultimate betrayal and reconcile or walk away. I just don't know. This is a great read and a wonderful story for the heart. I highly recommend it!
*I received a complimentary copy of the book in this post via Tyndale House Publishers for purposes of this review, however all opinions are my own.