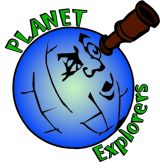 We recently got the opportunity to check out author Laura Schaefer's Travel Books for Kids, Planet Explorers and do a Q & A with her. Check it Out!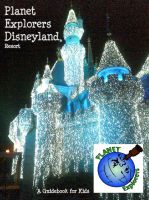 When my kids were little, they of course asked to go to Disneyland and with 3 kids it was just never a vacation that would fit into our budget. As they have gotten older they have lost interest in Disneyland and this year when asked if they would like to go, they all said No, they would rather go to the beach. But after checkin' out Planet Explorers Disneyland Resort they have changed their minds.
This book is a guidebook written just for kids! Not only is it informative but fun! You will find all the information about attractions, food, shows, Downtown Disney and it's resorts that you need, whether you are planning a visit or just doing research. There are fun facts about Disney's history and even fun quizzes to test your knowledge. You will learn about Walt Disney and so much more. It contains amazing photos and images that are super kid friendly and there is so much info, it feels like a virtual tour! We loved it!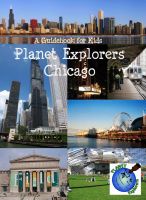 In Planet Explorers Chicago you will find everything you need to know about Chicago and its nearby attractions. It includes the Shedd Aquarium, Lincoln Park Zoo, the Field Museum, Six Flags Great America, as well as other notable buildings, parks and stadiums. Jam packed with fun facts and history, this book has pictures, maps, and even those great quizzes to test your knowledge. Although it's recommended for 8 to 12 year olds, this book will surely be a hit for any age. I have never personally been to Chicago and wasn't too sure I really ever wanted to go but this book definitely gave me a different perspective.
Both of the Planet Explorers Books are excellent research and resource materials for any homeschool family while also providing entertainment and a learning adventure. My kids were so excited to get the opportunity to ask the Author of these great books, Laura Schaefer some questions, here is the Q & A:
Q. What inspires you to write books?
A. I love reading books! I try to write books I myself would enjoy reading or would have enjoyed reading as a kid.
Q. Do you like writing a certain type of book?
A. I like writing all different kinds of things. I write fiction, non-fiction, books, articles, and even quiz questions for teachers. By writing a variety of things, I stay interested in my work and always learn new things.
Q. What is your favorite ride in Disneyland?
A. It's so hard to pick just one! I love Splash Mountain and Buzz Lightyear. I also love Peter Pan's Flight and Pirates of the Caribbean.
DJ asked:
Q. How many books have you written?
A. So far, I've had six books published. I'm working on my seventh now--Planet Explorers New York City. I've written a few more than that..some of the early ones were for practice and aren't very good.
Q. Why do you write travel books for kids?
A. I loved traveling as a kid and I think it makes sense for kids to help with planning trips. They should know what to expect and what they're going to see. Kids have more fun that way. Also, I think the whole world is full of awesome fun facts and cool stories... by having Planet Explorer titles in your phone or e-reader, those stories are at your fingertips. Being able to say to your parents, "Hey, did you know?" adds another layer of coolness to being a tourist. Imagine you're walking down the street and something amazing happened right where you're standing. Wouldn't you want to know about it? I hope Planet Explorers will help with that.
Q. How many times have you been to Disneyland?
A. I've been to Disneyland three times and Disney World over a hundred times!
Victoria asked:
Q. Does anyone else help you write your books?
A. Sort of. I have what's called an editor. Editors read over your work and help make it better by fixing mistakes and making suggestions. For The Teashop Girls and The Secret Ingredient, I have one main editor who lives in New York City. Many of my friends and family members are helping with Planet Explorers, and they live all over. My brother David is a Disney expert (he designs theme park rides for a living), and he lives in Florida. He was my fact-checker for both of the Planet Explorers Disney titles.
Q. Do you travel the world?
A. I haven't traveled the whole world yet. I'd like to see more of it, in fact. I've traveled all over the United States and to several places in Europe so far. I've also visited Canada and Mexico.
Q. Have you ever met any Disney Stars?
A. I haven't met any Disney Stars, but I'd love to!
You can Check out Laura's books at
Planet Explorers online
and
Smashwords.com
and on
Facebook
. What is super cool about these ebooks is there are a variety of format methods available to fit whatever your choice of viewing method is and they are so affordably priced! I highly recommend these books whether your planning to visit or not.
*The Giveaway*
5 Check it Out! with Dawn readers will win their choice of Laura Schaefer's Planet Explorers Chicago or Disneyland ebook. Just fill out the entry form below to enter and get up to 4 extra entries by doing the following:
*Follow Check it Out! with Dawn via Google Friend Connect
*Follow Check it Out! with Dawn via
Twitter
*Follow Check it Out! with Dawn via Email
This giveaway ends 8/30 /11 at 11:59pmEST and is open to residents of US and Canada.
**This Giveaway is Closed**
*I received a Free Copy of the ebooks mentioned in this post via Business2Blogger and Laura Schaefer for purposes of this review, however all opinions are my own.