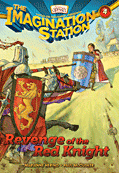 Revenge Of the Red Knight
by: Paul McCuskar &
Marianne Hering
About the Book:
"In this Imagination Station adventure, Patrick and Beth find themselves as guests in a beautiful castle in 15th-century England. Through a series of events, the steward of Lord Darkthorn's castle finds the cousins with three artifacts collected in their previous adventures: the stone, the cup, and the golden tablet. They are accused of being thieves and locked in jail. Beth escapes and discovers the identity of the real thief, leading to a jousting contest with a surprising outcome. Set during the War of the Roses in England, Revenge of the Red Knight will teach readers about the Crusades, the integrity of knights and the vows they took, and why men would choose to risk their lives to fight for Christianity."
About the Authors:
"Paul McCusker was given his first typewriter early in his childhood and hasn't stopped writing since. Since joining the Focus on the Family staff in 1988, Paul has written over 300 half-hour episodes for the Adventures in Odyssey audio series, 18 tie-in novels and two screenplays for the animated series. His grown-up novels include The Mill House and Epiphany (nominated for a ECPA Gold Medallion Award) two medical thrillers co-written with Dr. Walt Larimore called TSI: The Gabon Virus and TSI: The Influenza Bomb. Paul and his wife, Elizabeth, live in Colorado Springs with their two children."
"Marianne Hering has written for children since 1987 when she joined the editorial staff of Focus on the Family Clubhouse and Clubhouse Jr. magazines. In the 1990s she wrote six children's mystery books and more than 40 Bible phonic readers (with co-author Margaret Wilber) for Cook Communications. Now a general book editor for Focus on the Family, she has turned her passion for children's fiction into developing a series for beginning readers who love adventure."
My Review
:
Revenge of the Red Knight is the 4th Book in The Imagination Station Series and this time the kids find themselves in England and in trouble! Patrick and Beth are confronted with enemies and have to survive to find Albert and all the lost treasures. This book is filled with action adventure and can even get a little scary at times as the cousins meet up with still more enemies as they try to make their way back home. But is the time traveling over? With Mr. Whitaker left to figure out where his missing ring is and how to get it back, the next adventure should be just as thrilling!
*I received the book in this post courtesy of Tyndale House Publishers for purposes of this review, however all opinions are my own.