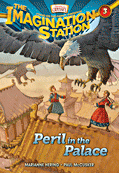 The Imagination Station Book #3:
"Peril in the Palace"
by: Paul McCusker
and Marianne Hering
About the Book:
"The place? China in 1271. The quest? The golden tablet of Kublai Khan. The problem? Just about everything!
The Imagination Station adventures continue as cousins Patrick and Beth are kidnapped by Mongol warriors. Only the friendship of fellow traveler Marco Polo saves them from harm. They are brought to the Mongol palace, where the Kublai Khan dislikes both their gifts and their message about Christianity. The tension grows when the Mongol magicians challenge the cousins to a spiritual power showdown. As war breaks out, Beth and Patrick are locked in a secret room to prevent their escape.
How do the cousins get the golden tablet they need to save Mr. Whittaker's friend Albert? How do they escape the city and find the Imagination Station? Enter the perilous palace and find out!"

About the Authors:
Paul McCusker is the creative content director for Focus on the Family. He has been a writer of fiction, nonfiction, and drama since 1979. His work includes over forty published novels, full-length plays, dramatic sketch collections, and song lyrics. For the Adventures in Odyssey series alone, he has written over 200 half-hour radio episodes, eighteen novels, and two screenplays for the best-selling animated videos. He has dramatized many classics for Focus on the Family Radio Theatre, including A Christmas Carol and Jan Karon's At Home in Mitford. He also wrote and directed the Peabody Award–winning Bonhoeffer: The Cost of Freedom and created the highly acclaimed Father Gilbert Mysteries series. Paul lives in Colorado Springs, Colorado, with his wife, Elizabeth, and their two children.
"Marianne Hering is a prolific writer, having written hundreds of articles and a number of books for children and parents. For nine years she worked for several magazines in Focus on the Family's periodicals department and became the editor of Clubhouse, a Focus on the Family children's magazine with a circulation of over 100,000.
Marianne's book titles include two series for girls (Lights, Camera, Action; and White House Adventures) and a recent biography of William Bradford. Her most recent title is a compilation of activities from Clubhouse magazine, the Focus on the Family Clubhouse Family Activity Book.
As a mother of three children, Marianne is interested in parenting and education issues, including home schooling and tutoring reading. She graduated from Biola University (La Mirada, California) with a degree in psychology and has continued her education with courses in writing and editing. She and her husband, Doug, live in Colorado with their nine-year-old daughter, Danielle, and two-year-old twin sons, Justin and Kendrick."
My Review:
Well the adventure continues for Beth and Patrick and the Imagination Station. The setting this time is China and the adventure begins with being kidnapped by Mongol Warriors! You get to travel along with the cousins and learn a bit too, about ancient china and some of its customs, as they set out to find the Golden Tablet they need to save their friend. Full of adventure and action, the kids help to bring hope to Christians and spread the truth about Jesus. I love the story and adventure in these books and how the kids are in charge but Mr. Whitaker is always there to make sure things go right in one way or another. I can't wait to see where the next adventure takes them! You can join Patrick and Beth on their adventures online also, check out
TheImaginationStation.com
and get info on the next book in the series.
*I received a complimentary copy of the book in this review courtesy of Tyndale House Publishers for purposes of this review, however all opinions are my own.